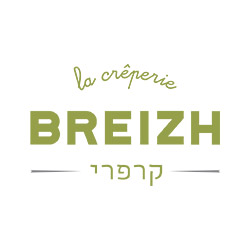 Breizh Crêperie – The First Crêperie in Jerusalem!
Enjoy a variety of sweet and salty crepes with vegan and vegetarian dishes, coming directly from the region of Brittany, a region of France where the flour produced from the buckwheat is used to make the crepes and other sweets.
The crepes of the Carpari are made from a mixture of buckwheat, which is laid daily according to the British tradition.
In light of the Corona crisis, we have decided to bring Breizh Crêperie to you! All our sweet and savory dishes in your home and all you have to do is just pick up the phone and call for delivery.
Salted Crepes – Made from buckwheat batter we grind daily according to the Breton tradition, a variety of sweet crepes, custom crepes, sweet cakes alongside our perfect coffee – Caffè Diemme, a variety of milkshakes, aces, hot drinks, light drinks and more…
Not available for Deliveries
Sunday to Thursday: 11:00-23:00
Friday: 11:00-17:30
Saturday: 20:30-Midnight