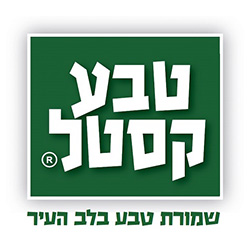 Teva Castel was founded in 1999 and specializes in vitamins and dietary supplements. At that time, in the previous millennium, the organic market was still in its infancy. Years later, the organic market is growing, and we are with it, always trying to take it forward in a few steps, looking for creative ways to bring you the healthiest and most natural products from the leading companies in Israel and around the world. With the constant aspiration to renew and provide personal, family and courteous service to our clients.
"Nature reserve in the heart of the city" – Teva Castle's branches are located in the heart of the cities, but when you enter the branch you will feel the special atmosphere that takes you out of the noise and bustle of the city for a moment.
Today at Teva Castel there are over 10,000 natural, organic and ecological products. These products include all kinds of food: vegetables and fruits, bread, pulses, honey, tahini, oils, dried fruits, infusions, cereals, crackers, dairy products, grocery products, meat, eggs, cereals, Natural, vitamins, minerals, herbs, nutritional supplements and more.
We at Nature Castel specialize in the import, development and marketing of vitamins, nutritional supplements and natural and organic products for the health-loving consumer. Our goal is to provide a healthy alternative to conventional food products that contain preservatives, food coloring, pesticides and more. Special expertise will be found in the field of dietary supplements for athletes.
All the organic products in Teva Castel are produced under the strict supervision of Agrior , the largest company in Israel for the supervision and approval of organic produce. Agrior is the unit authorized by the global corporation of organic organizations IFOAM. You can find the approval and supervision symbols at all branches and on the products themselves.
Sunday to Wednesday: 07:30-22:00.
Thursday: 07:30-23:00.
Friday: 07:30-17:00.